ServNet Strengthens Brand, Adds Locations in 2016; Ready for Market Growth in 2017
An open letter to the industry by ServNet's President, Kevin Brown (Managing Partner, Missouri Auto Auction)
As another year draws to a close, it is my privilege to take stock of ServNet's accomplishments in 2016 before we shift our momentum to plan for the New Year. Approaching my second year as ServNet's president, I continue to be impressed and inspired by the achievements of the individual auction locations as well as the collective efforts we have made as a group. There is a great deal for us to celebrate and remember.
I can report without reservation that the ServNet brand is stronger than it has ever been, and the past year we welcomed four new auctions to the group: Greenville Auto Auction in North Carolina; North Bay Auto Auction in Fairfield, California; Louisiana's First Choice Auto Auction in Hammond, Louisiana; and Houston Auto Auction in Texas. The addition of these four auctions not only expands ServNet's geographic footprint, but fortifies and enriches us as a group as we collaborate with the new auctions' experienced and dedicated owners.
In addition to new locations, ServNet is growing in other ways, as other member auctions expand and improve their facilities, demonstrating ServNet's entrepreneurial efforts, strong capitalization and unwavering commitment to the marketplace.
BSC America's new home for Bel Air Auto Auction in Belcamp, Maryland is nearly complete, with a grand opening planed in early 2017. The new facility will boast a 75,000 square foot, 10-lane auction building, and a 45,000 square foot mechanical shop, body shop and recon center - all located on a 175-acre campus just six miles from the current facility.
State line Auto Auction has been busy over the past year working on a rail siding project and expanding its parking lot, so that the total auction footprint is now over 118 contiguous acres.
KCI Kansas City undertook its third expansion since opening its current facility in 2008, adding 20 acres of asphalt to accommodate a 30% increase in sales volume over the past 12 months. Owner Doug Doll notes that further growth in expected in 2017 with further plans for a building expansion and additional parking.
The San Antonio Auto Auction continued an almost non-stop pattern of growth and expansion in 2016, developing seven acres for consignment parking. Another six acre parcel for vehicle storage and marshalling is also being developed, with an expected opening in early 2017.
After expanding its parking capacity to accommodate 5,000 additional vehicles, DAA Northwest recently opened a new building for fleet/lease sales and operations, accounting and marketing. The auction plans a 15,000 square foot expansion to the auction auto body center and a new condition report and photo booth facility in 2017.
DAA Seattle added eight additional acres adjoining its current facility for paved and secured consignment parking.
North Bay Auto Auction spent the summer managing a number of improvements, including new flooring, landscaping and both exterior and covered parking.
Houston Auto Auction plans a major facility expansion in early 2017. The auction will add 6,000 square feet of office space, a 5,000 square foot building to house a new mechanical shop and recon center, and 10 acres for vehicle parking and an expanded transport lo

t
ServNet received several industry acknowledgements in 2016, most notable among them being the NAAA's 2016 Hall of Fame Award, which recognized Patty Stanley's tireless efforts on behalf of the auto auction industry. ServNet has long benefited from her guidance and expertise, and we join with the industry in expressing our appreciation and applauding her contributions. Also receiving awards at the NAAA Convention in Las Vegas were San Antonio Auto Auction (Operational Excellence Award from Nextgear); Carolina Auto Auction (Remarketing Excellence Award from Nextgear), Louisiana's First Choice Auto Auction and KCI Kansas City (NAAA Auctions of the Year). Earlier in the year, Louisiana's First Choice Auto Auction was also named one of the Best Auctions to Work for by Auto Remarketing, as were fellow ServNet auctions DAA Northwest, DAA Seattle, Greenville Auto Auction, San Antonio Auto Auction and State Line Auto Auction.
Overall, car sales were tougher than we expected in 2016, but I am happy to report that volumes are growing at ServNet auctions nationwide, and we expect to see that growth continue in 2017. We've been told for several years to expect increases in lease returns, and I think we'll see the flood gates open in full force in 2017. We have seen positive growth in the number of dealer vehicles as well as institutional consignments in 2016, and forecasts are for that growth to continue. I foresee a busy and exciting year ahead, and ServNet auctions are ready!
As we look ahead to 2017, we will continue to focus on compliance. The process was initially frustrating and work-intensive, but we have, as a group, found that our efforts to support our financial institution customers have made us not only better business people but strengthened our companies as we look internally to review procedures and reduce risks. I am extremely proud of the way ServNet member auctions have risen to the Compliance challenge, viewing it as an opportunity to show our customers and the industry how ServNet auctions excel.
We face the coming year in good company. We have just signed another three-year agreement with TPC Management and acknowledge the role that Pierre Pons and his team have played in providing executive and administrative support to the ServNet Auction group. Their diligence has resulted in an even stronger, more visible brand and a bold national presence for ServNet. We also welcome the participation of the "next generation" of ServNet owners. As the sons and daughters of ServNet owners take their places in the ServNet board room and at the ServNet owners' table, we all benefit from their enthusiasm and intelligence. Their participation infuses our group with vitality, as they share their insights along with the wisdom and experience they have gained from their parents and grandparents.
As ServNet's president, it is my privilege to work with people from all reaches of our country who every day exhibit their skill, knowledge and dedication to our industry. I am grateful for the tremendous relationships we enjoy with our customers and colleagues, for the important things we have accomplished in 2016, and for the exciting possibilities that 2017 holds for us.
On behalf of all the ServNet auction owners, I thank you all for your association and support, and wish you and yours a Merry Christmas and a brilliant New Year.
Kevin Brown
President, ServNet Auctions
Owner, Missouri Auto Auction
ABOUT SERVNET
The ServNet Auction Group is a network of America's best strategically located independently-owned wholesale auto auctions. Since 1988, ServNet member auctions have been working together to provide a full range of remarketing services to its customers, including the best auctioneers, inspections, reconditioning, transportation assistance and inventory financing. The ServNet Auction Group is managed by TPC Management with headquarters in Franklin, Tennessee.
Contact:
Cynthia Cates
cynthia@servnetauctions.com
916.231.6360
---

ServNet Partners with AFC for National Promo Event
Buyers at ServNet auctions across the country are being offered an exclusive opportunity to floorplan their vehicle purchases, thanks to a special promotion jointly offered by ServNet auctions and AFC. ServNet's President Kevin Brown reports that the promotion is offered to dealers buying at any of ServNet's 21 auction locations during the week of November 14-18.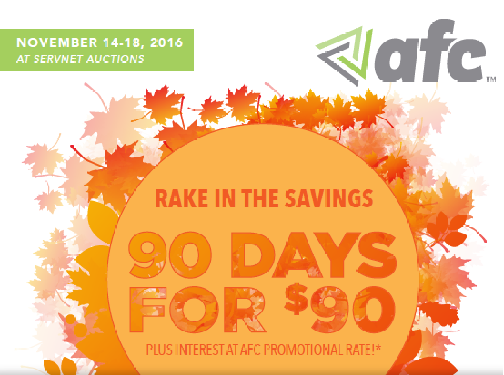 "We are excited to announce the return of the "90 for 90" promotion that proved such a success in 2015," said Brown. "This partnership with AFC, spearheaded by ServNet auction owners and board members Rob Thompson and Eric Autenrieth, brings tremendous buying power to the auction lanes."
Brown explains that on scheduled sale dates at ServNet auctions from November 14th through 18th, dealers can floorplan their purchases with AFC for up to 90 days for an exclusive promotional rate of $90 plus interest.
"This event once again demonstrates ServNet's innovative efforts on behalf of its commercial account customers to foster robust activity in the auction lanes," said Brown. "The promotion with AFC comes at the perfect time of year for our commercial accounts to sell more, and for dealers to stock up on great inventory before the holidays."
The ServNet Auction Group is a network of America's best strategically located independently-owned wholesale auto auctions. Since 1988, ServNet member auctions have been working together to provide a full range of remarketing services to its customers, including the best auctioneers, inspections, reconditioning, transportation assistance and inventory financing. The ServNet Auction Group is managed by TPC Management with headquarters in Franklin, TN.
Contact:
Cynthia Cates
cynthia@servnetauctions.com
916.813.9650
---

MetroGistics' Jeremy Cope Receives Executive Promotion

Saint Louis, May 17, 2016 – MetroGistics, a leading provider of automotive logistics services, has announced the promotion of Jeremy Cope from director of logistics operations to vice president of operations.
For the last 15 years, Cope's career has been focused in the vehicle transport and logistics field, with four of those being dedicated to MetroGistics. His first role included operating an auto hauler, which eventually led him to become the director of logistics operations.
Cope oversees several aspects of the operations department, including the asset side, logistics group, dispatching, key accounts, aging, and track and trace. He supervises the quality assurance team, helping to follow through on MetroGistics' promises of excellent customer and carrier service.
"We're delighted to promote this dedicated expert to VP of operations," said William Billiter, co-founder and managing partner. "Jeremy has been eager and successful at putting forth his best abilities in all he has accomplished while being a part of the MetroGistics team. It's an exciting development along with the square-footage expansion the company is soon to implement."

For more information about MetroGistics, call 877-571-6235 or visit www.metrogistics.com.
About MetroGistics
MetroGistics is a nationally recognized leader specializing in creating vehicle-shipping solutions for customers of all sizes. Our focus remains centered around delivering on commitments to both our customers and vendors while using state-of-the-art technology to drive efficiencies into the vehicle transportation marketplace. By using a combination of company-owned trucks, owner operators and a national carrier network, we have the ability to service all customer requests large or small, around the block or across the country. For more information, call 877-571-6235 or visit www.metrogistics.com and watch a brief video.
Media Contact:
Abby Leitner
Account Coordinator
S&A Communications
919-674-6020 x127
aleitner@sacommunications.com
---

1424 Fourth Avenue, Suite 920
Seattle, WA 98101
206-858-4800
Contact: Daisy Ngugi
Email: daisyn@auctionedge.com
Auction Edge Announces New Auction Management System Brand and Strategy
Auction Edge has announced the rebranding of its recently acquired auction management system from Auto Auction Solutions. Automated Auto Auction System will be rebranded as EDGE AuctionOS. The EDGE AuctionOS brand sits nicely alongside Auction Edge's other products including EDGE ASI, EDGE Pipeline, EDGE Lookout and EDGE Simulcast.
EDGE AuctionOS was acquired in Q4 of 2015. Since then, Auction Edge has added 6 new auctions— bringing the total to 86—which are now also EDGE Pipeline, EDGE Simulcast and EDGE Lookout customers. "EDGE AuctionOS has been well received in the market and provides a wonderful option for auction owners looking for an alternative operating system for their auctions," said Auction Edge President Scott Finkle. Auction Edge is home to the industry's two dominant auction management systems including EDGE ASI which powers 103 of the nation's largest auctions. All told, Auction Edge provides auction management systems to 189 auctions across the US and Canada.
"EDGE AuctionOS is ideal for dealer consignment auctions that are looking for a modern auction management system at a competitive price", said Dan Diedrich, Auction Edge Executive Vice President. Auction Edge's goal is to enhance EDGE AuctionOS so it can handle the requirements of a diverse set of customers. EDGE AuctionOS, however, is not intended to replace EDGE ASI. Diedrich continues, "there are many auctions that are committed to the IBM Power System (formally known as AS/400) platform and for those auctions, Auction Edge is committed to the continued development of the EDGE ASI product. EDGE AuctionOS is an alternative for those auctions looking for a PC-based platform."
Auction Edge is the industry's leading provider of technology and related services to nearly 230 independent and public auctions across North America. Auction Edge offers a complete set of technology products to run an auction, including auction management systems, an online marketplace, auction websites, and advanced simulcast technology including Edge Single Clerk.
If you'd like more information about EDGE AuctionOS™... or to schedule an interview with Scott Finkle, CEO please e-mail Daisy Ngugi at daisyn@auctionedge.com
---

01/19/2016
Velocicast Provides Next-generation Simulcast Solution for Auction Industry
ROSEVILLE, California - Auction Frontier LLC has announced the launch of Velocicast, a next-generation simulcast service developed for the wholesale auto auction industry. The announcement was made by Scott Suchomel, President of Auction Frontier, a company specializing in online auction solutions. Suchomel noted that Velocicast was designed with an emphasis on reliability, lower cost of ownership, and an enhanced user experience.
"After many years of watching auctions struggle with existing simulcast technologies, we determined that there was a need for a next-generation solution," said Suchomel. "Following targeted development and extensive field testing, we are pleased to introduce Velocicast to the industry."
Scott outlined three principles that shaped the design of Velocicast:
Reliability: The system was built from the ground up to run reliably 24/7, every time and on any device.
Lower total cost of ownership: Velocicast showcases an easy-to-use interface which not only prevents costly human errors during the sale but makes system maintenance and training clear and straight-forward.
Improved user experience: Created with the user in mind, Velocicast's beautifully-designed screens are packed with features while remaining simple and intuitive.
"Customer feedback has been very positive," said Ben Brasher, Owner and Director at Brasher's Auto Auctions. "As we contemplated different simulcast options, we were introduced to Velocicast. It was a no-brainer for us to give it a try, and we're glad we did. We have been particularly impressed with how responsive Auction Frontier has been during the process. They are clearly committed to making Velocicast an industry-leading simulcast product."
Auction Frontier LLC, is a simulcast company based in Roseville, CA. The company was founded by Scott and Brad Suchomel, who share more than 20 years of experience in the online auction industry. For more information about Velocicast, go to www.velocicast.com.
Contact:
Scott Blatter
Auction Frontier
916-252-0252
scottb@velocicast.com
---
AUCTION DIRECTORY
Digital Rates
| | |
| --- | --- |
| 2016 Auction Directory | $390 Annual |
For your convenience, we can be reached via e-mail at the following email address:
dealertradenews@dealertradenews.com